There are plenty of websites offering a portal where you can find all sorts of jobs if you are a job seeker. Some of them actually do help you land employment, while others are just out to scam you, while they do not get you any employment.
Now, other than job seekers sites, there are other sites that offer a career path development for people who wish to advance their careers. These sites have plenty of information for you to read on how to do things in your job, so you can advance to the top.
You can also connect with some high-level professionals who know plenty about your chosen career field. You can ask them any questions you wish, on how to tackle different problems and how to impress your bosses.
About.com/careers
This site is owned by The New York Times. It offers plenty of free information for job seekers and people who are looking to advance their careers. They have articles that cover everything from how to find a job, how to get along with your boss and the kind of questions you shouldn't ask when in an interview.
The site also links to other sites that are more focused to specific careers such as criminology and advertising. These usually have topics that are lined to your everyday lives. Users are able to read the history of different jobs and find a whole list of places where they can go to advance their careers, access the site here.
Betts Recruiting
This is a website for Betts Recruiting. This is used to help businesses with venture capital startups in the Silicon Valley and New York City areas. Their main focus is on marketing, sales and business development.
Big Interview
This site was co-founded by Pamela Skillings, who is a career coach. She used to work for Citigroup, MasterCard International and Morgan Stanley as a human resources staffer. The site offers online interviewing tutorials that you have to pay for.
When you spend $197, you shall have access to three installments of the tutorials. As a user, you can use the platform to prepare for industry-specific interviews such as advertising and pharmaceutical sales reps.
They will give you answers to questions such as "why are you interested in this job?" and "tell me about yourself." You can then record these answers and then watch them later.
The website has numerous tips for different stages of your interview. You should access it if you are interested in nailing your interview.
Blogging4Jobs
This is an online resource center for leaders, managers, human resource and recruitment professionals. They take you to an uncomfortable but necessary place that seeks to expose the realities of the workplace without sugarcoating anything.
It was launched in 2007 and the main goal of the site was to help job seekers lean the unwritten rules of job searching. The site has since expended to offer plenty more insights into the world of office work from an operations and corporate point of view.
Boomer Job Tips
Boomer Job Tips site gives you hints, tips, how-to's and ideas on how you can grow in your job. It shall also help you find work and prepare for the interview. With their ideas, you can move your career forward.
The website has numerous articles form experts in the areas of interview, resume's, tactics and strategies, with the boomer in focus.
CareerBliss.com
This website is designed to help people lead happy lives and find happiness at work. Their information-hub shall offer you free resources such as their "happiness assessment" segments that are developed by experts.
The database has more than 6.5 million salaries, 3 million job listings and 600,000 company reviews. When you use their large database of survey results and reviews, you shall have regular releases with lists such as "The happiest Companies to work for" and "the Happiest jobs for working dads."
CareerBuilder
This site is pretty famous, not only for helping people with their career paths, but it also gives them access to millions of jobs that you can apply for. Their scope is international and they have a presence of more than 60 markets all over the world.
The site gives help to employers and job seekers. You can post your resume on the website, which is free, and then have access to all of their jobs.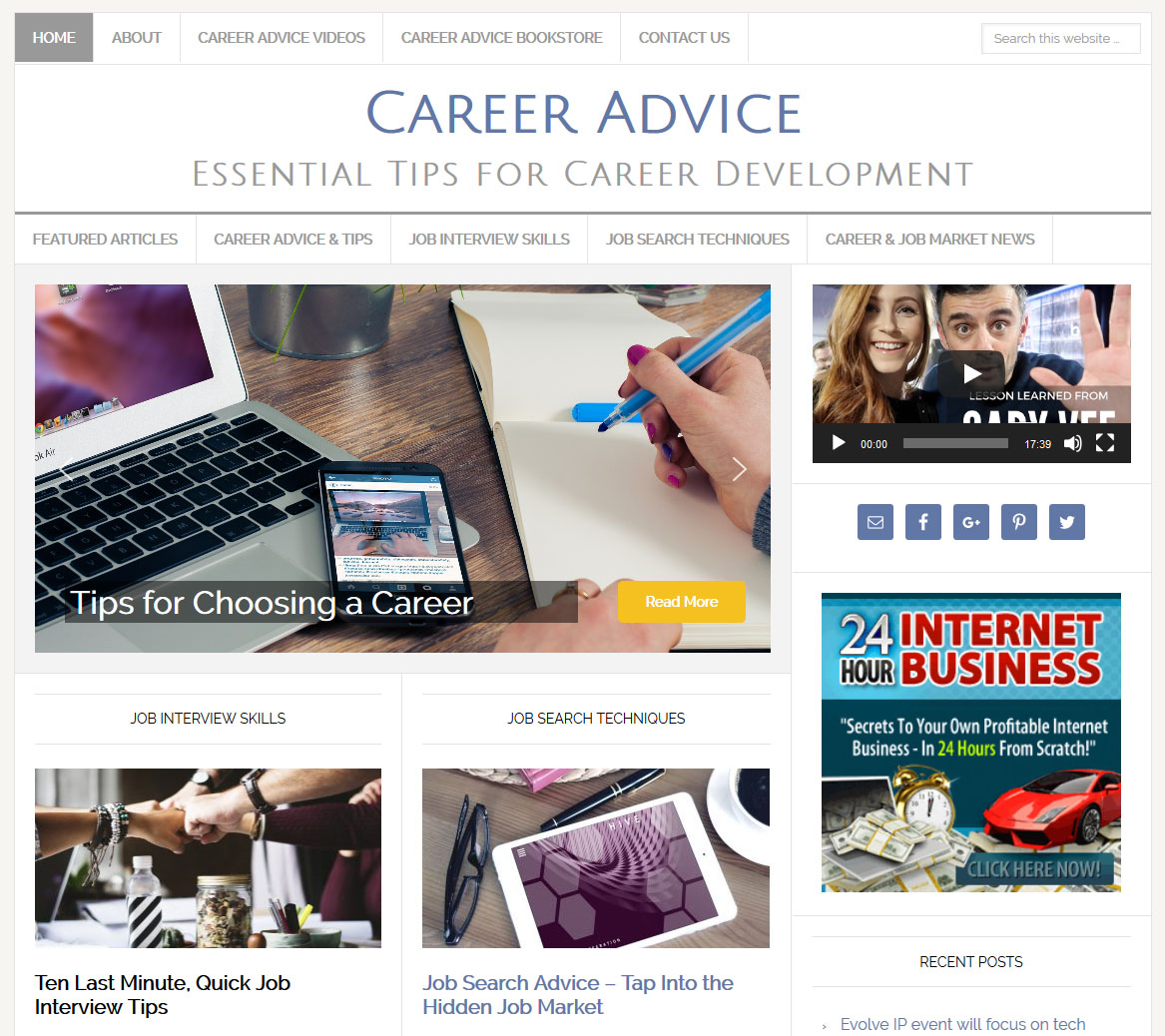 Conclusion
If you are keen on advancing your career, or you wish to find a job, then the sites we have listed above offer both services to their users. Have a look at their job boards, and their articles that are designed to help you with interviews and finding the best job.